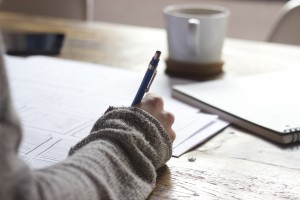 Tess Wilson is an Australian author of contemporary Young Adult and New Adult fiction.
Tess writes stories with authentic, intense characters who stay in mind long after the book ends. "Life for young people doesn't always end in happy-ever-afters," says Tess. "I want my readers to really share the journey, the struggles and the triumphs with my characters. I aim for giving my readers a believable story with a 'real life' ending." Her debut novel, Damaged Goods, a story of trauma, recovery, triumph, first love and coming of age, will be published later this year.
When she is not writing, Tess works in the mental health field as a youth counsellor and university lecturer. She is an avid reader, music lover, animal rights advocate, and a collector of vintage typewriters and tattoos.
Tess lives in Melbourne, Australia with her mad family.